Inside Our Store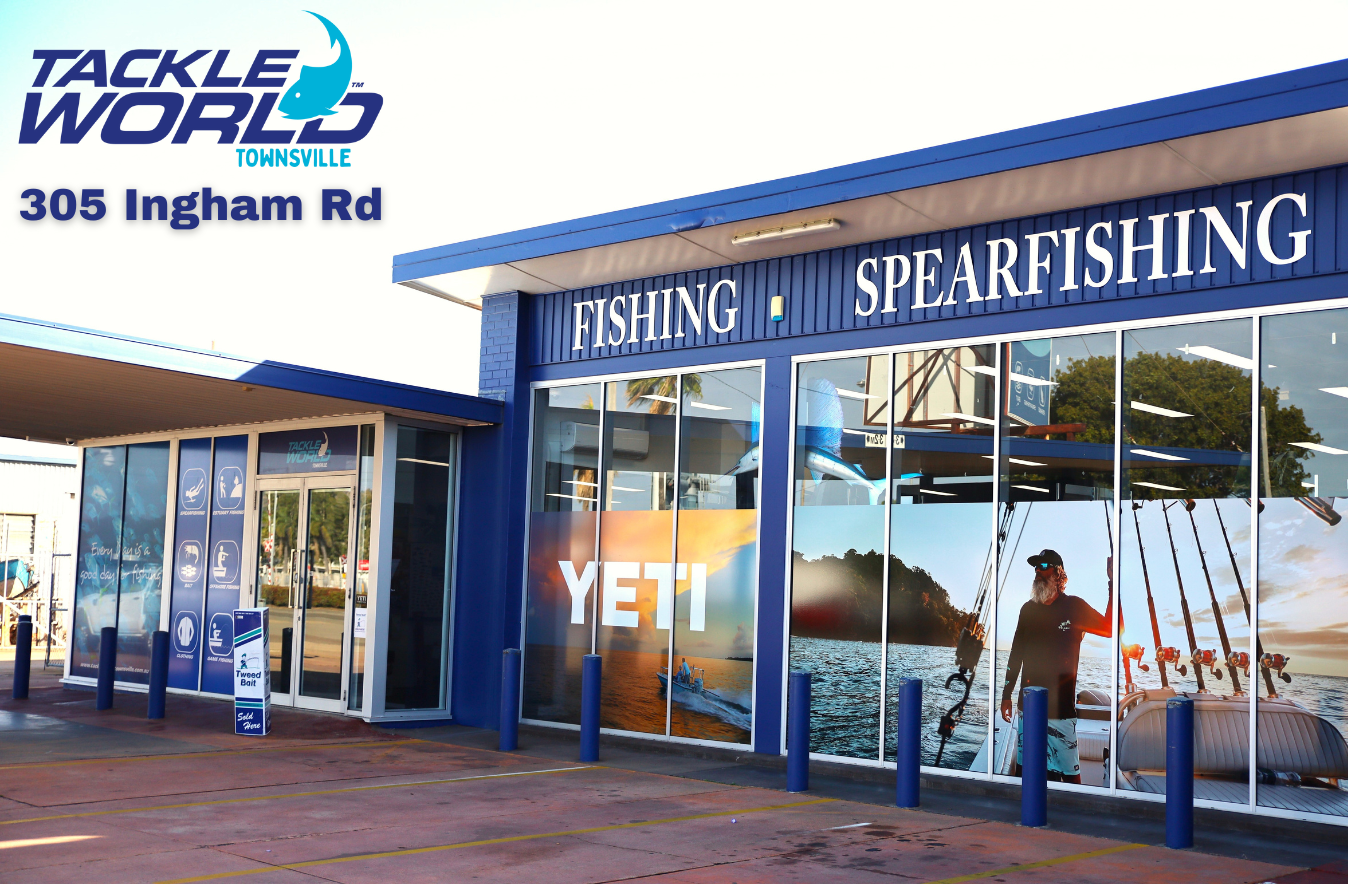 Tackle World Townsville is one of the largest locally owned tackle stores in Australia with wall to wall fishing gear to cover all aspects of fishing with gear to suit those fishing on a budget right through to the latest and greatest in quality fishing gear. "Live the Tackle World life!".
Our lures and soft plastics range is massive covering an entire wall with tens of thousands of different products to choose from. We have a huge range of fishing clothing with everything from sun protection to casual wear from all the biggest brands like Pelagic Gear. Crocs, Samaki and more. Our spearfishing section is ever expanding with a huge selection of gear from top brands like Rob Allen, Cressi, Penetrator, DiveR and Torelli just to mention some.
Everyone in our store is passionate about fishing and always excited to pass on any information we can, to help you enjoy your fishing experience that little bit more, local knowledge can do wonders to your chances of landing that fish of a lifetime.
The areas accessible from Townsville include the barramundi rich waters of the Hinchinbrook Channel to the exceptional light tackle grounds of Cape Bowling Green with some of the best juvenile black marlin and sailfish fishing in Australia. The freshwater reaches of the Ross River runs through town and is full of metre plus barramundi and some real lure crunching mangrove jacks.
During the summer months if there is good rain fall then the numerous weirs spread throughout the Ross River are particularly good with Aplins weir really turning it on for barramundi and mangrove jacks as this is the last weir in the chain where the fresh meets the salt.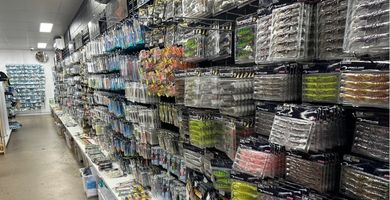 Most of the creeks and rivers around Townsville are full of mud crabs and prawns on top of the fish species like barramundi, mangrove jacks, javelin fish and flathead just some. Cleveland and Halifax Bay are also very productive with the winter months in particular turning on some great pelagic fishing, with school mackerel, spotted mackerel and Spanish mackerel. Then there is Salamander Reef, Magnetic Island and the Palm Island group just offshore and this is where the monster Spanish mackerel and giant trevally really turn it on with 30kg fish not uncommon.


Last but not least the Great Barrier Reef is only about 40km off Townsville with some of the most spectacular fishing on the planet, with coral trout, red emperor, large mouth nannygai, red throat emperor and numerous other species on offer, it is simply every angler or spear fishers paradise. With all this fishing action on offer there is a million and one ways to fish these areas and that is were we come in, we love it and you will too.


Pop in, see the range and say G'day!
---
Meet the Tackle World Townsville Team

Danny

I have owned and managed Tackle World Townsville for close on 20 years and fished my entire life. I have always loved casting poppers and stickbaits over the flats, you just never know what you are going to get. In my younger days I loved my GT fishing on surface, but these days I prefer it a little more relaxed, casting lures for barra and jacks and doing a spot of bait fishing for my favourite table fish, the Grunter/Javelin Fish.
Every day is a good day for fishing!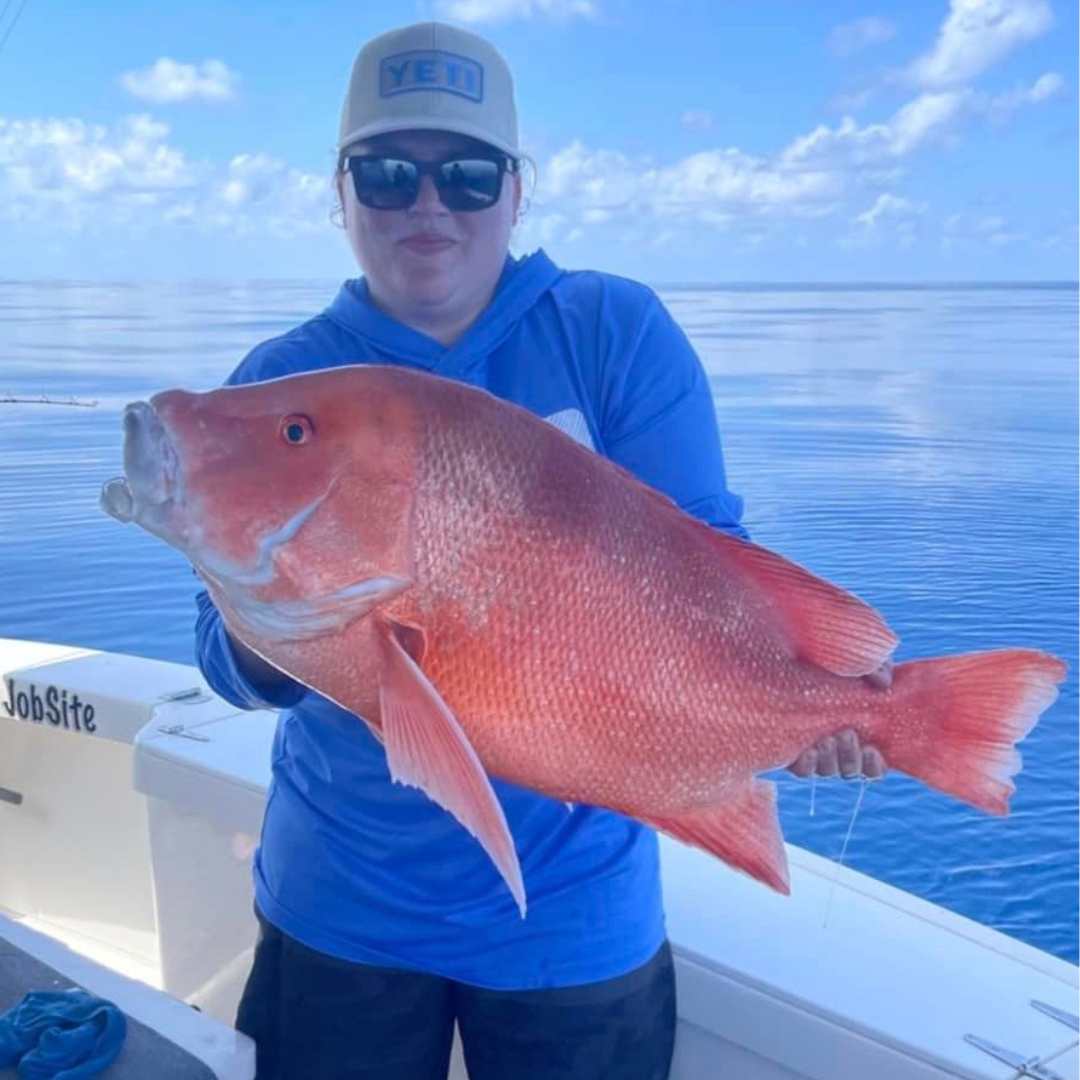 Renee
Recently having moved up into the ownership team here, working at Tackle World is like home, whether its giving advise or learning something new I'm loving it. Fishing and being out on the water is second nature to me, if the weather is good you'll no doubt find me the farthest I can get from land, bottom bouncing for reds or trolling skip baits for the chance to tussle with a black marlin or sailfish - both light and heavy tackle gamefishing is my passion and where I dedicate much of my free time away from the shop. My passion for fishing started with lure fishing for barramundi both locally and throughout the Hinchinbrook region. The area we live in has to be one of the best in Australia for the fishing mad.
Get out there!!!



Rob

For those who don't know me I made my living as a professional lure and fly fishing guide for 14 years before working here at Tackle World Townsville. I operated primarily out of the Hinchinbrook channel but also ventured to Cape York before swapping sandflies and sunscreen for air conditioned comfort and gentlemen's hours. In that time I had the pleasure of guiding local, interstate and international anglers onto some of the country's most sought after sportsfish from barra to the elusive permit. Since then I have been focusing on this regions fantastic bluewater offerings from wreck bashing to jigging the shelf, throwing poppers at GTs to marlin fishing. I may not get out on the water as much as I used to but still love sharing what I have learnt over the years with customers here at Tackle World Townsville.

Cheers Rob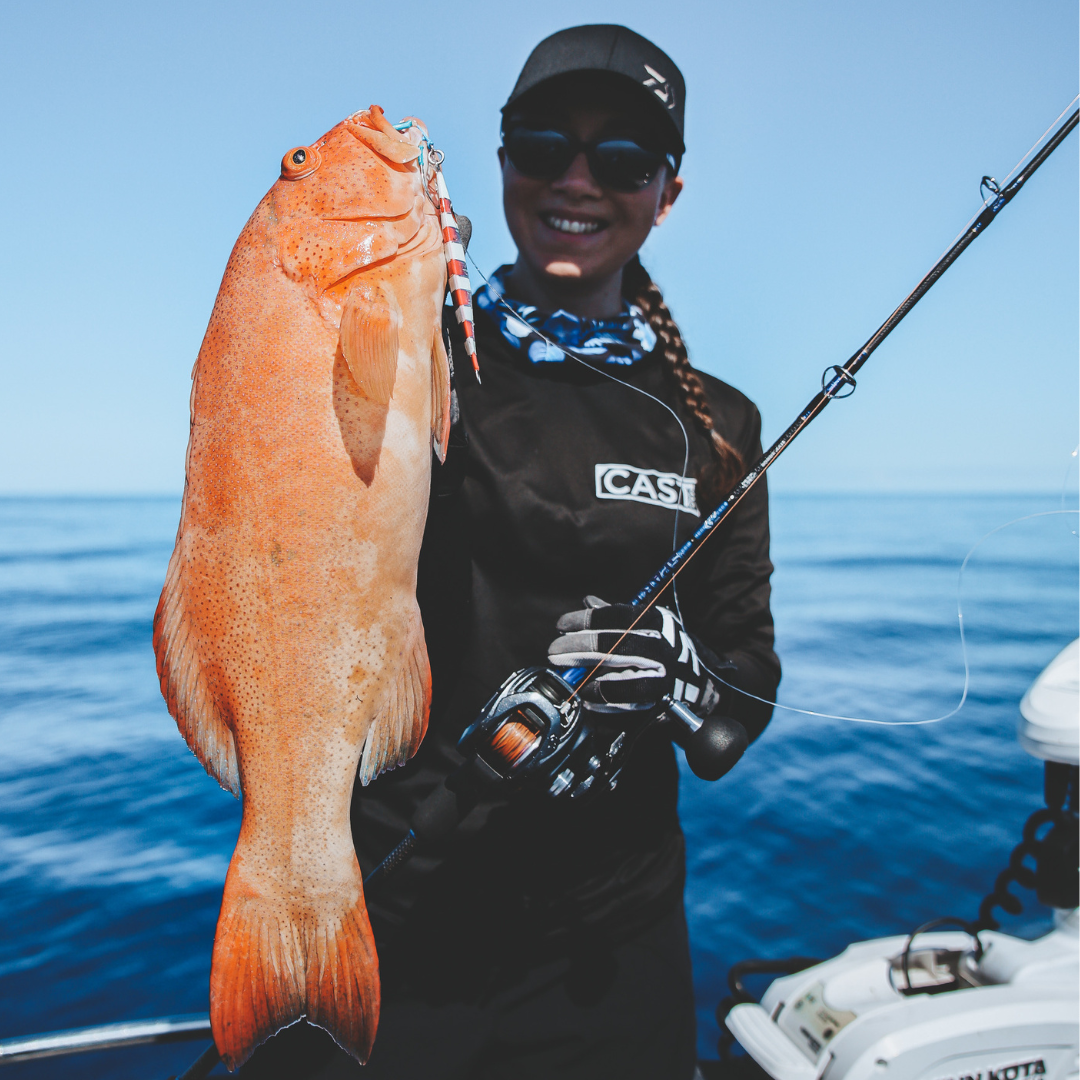 Tammy

Since moving here in April 2021 we've had the pleasure of landing many different species that the Great Barrier Reef offers, including my favourite species the Giant Trevally. After many topwater GT's we have now concentrated our efforts into jigging and with great success, and let me tell you this is where it's at! There is nothing like pinpointing fish on the sounder, dropping a jig down, hooking up straight away and going through the fight of your life to keep those prized fish away from the tax man. More than happy to chat all things fishing so if you want to reach out come on down to the store or you can find me on Instagram @team_spina_tammy
Get out there and start landing those dream fish!
Zac
I started spearfishing just over 3 years ago and fell in love with it from the moment I jumped in the water. Having The Great Barrier Reef right at our door step provides us with some of the most biodiverse reefs in the world with an array of amazing fish to target while spearfishing, giving spearos endless opportunities to bring home great tasting fish. I study at James Cook University doing a Bachelor of Marine Biology and spend my spare time either out on the water or putting together little videos of all the things we get up to while spearfishing! Whether you're new to spearfishing or highly experienced, there are plenty of great places to get started as close as Magnetic Island.
Ethan
Hey guys, my names Ethan and I have personally fished loads of locations around the country from the Pilbara all the way round to Fraser Island and now NQ. I have fished using a variety of techniques and strategies and love trying new tackle and catching new species. I love the tackle industry for its technical side and if you don't see me fishing ill be in my workshop pulling reals apart, customizing them, tying new rigs and testing lure actions in my fish tank. My favourite species to chase would be the humble flathead as they fight hard on light tackle and taste amazing as well. If you're looking for any technical information about different tackle product come see me and I'll be happy to share what I have learnt over the years.

Tallis

I'm a brissy boy who moved to Townsville to complete my bachelor of Marine Science. I fell in love with the GBR after buying a Haines Traveller with my best mate, and concentrate most of my time chasing GT's, Trout on Flats, Jigging and impoundment Barra. Working at Tackle World has been a dream job of mine since I was a kid. I consider myself very lucky to be able to share my knowledge and experience with others in a working environment. I share content through the fnq.travellers instagram account and am currently working close with CASTMAG to create content people haven't seen before. I plan to continue to grow and can't wait for what the future holds!!


Brad

Growing up on the Fraser Coast in Hervey Bay I quickly fell in love with all things fishing as a young teenager, I bought my first boat while still in school and I have made my way up the coast to Townsville as I left school. I love all things lure fishing from flathead on light setups to barra and jacks in creeks and just recently discovering offshore jigging and casting. I find anything lure fishing such a rewarding and exciting way of catching fish. Personally I find fishing a sport where u never stop learning and I really love being able to share my knowledge to young anglers and watching them get that bug just like I did.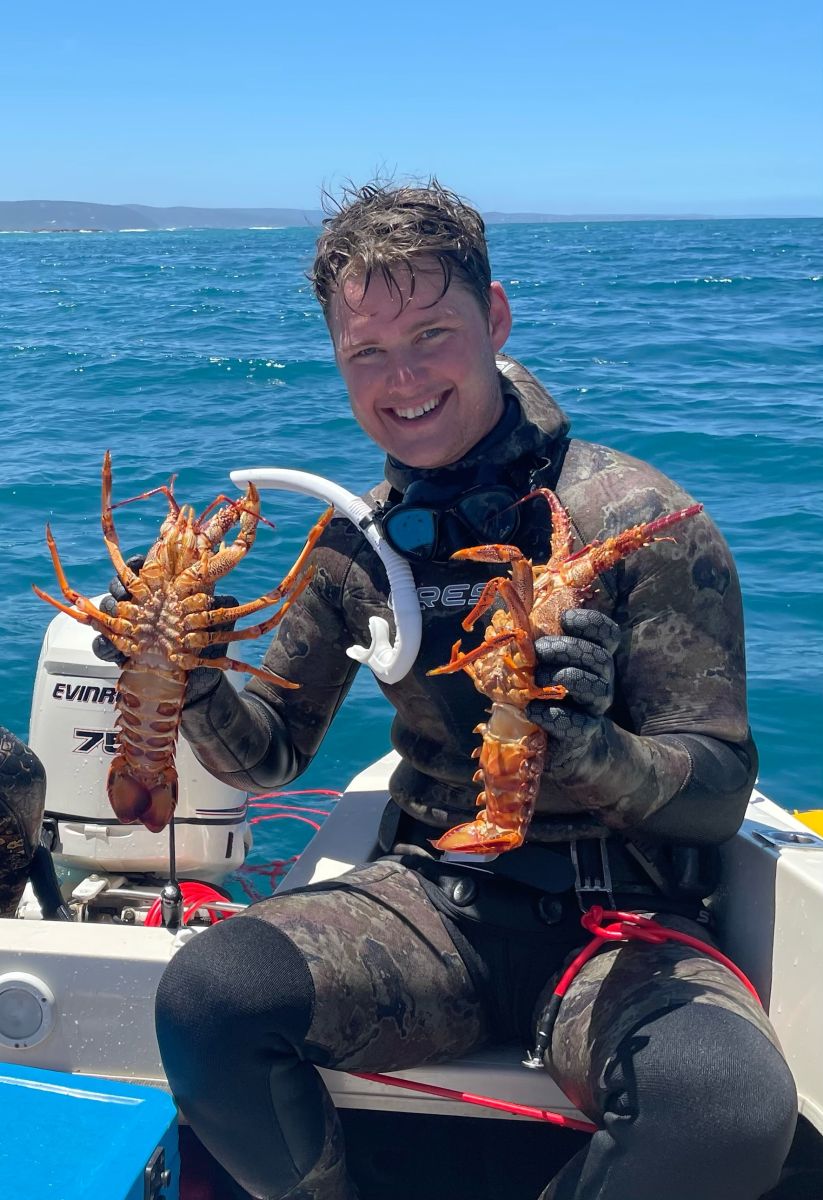 Will

I moved up to Townsville at the start of 2023 from Melbourne where I've been spearfishing for the last 5 years. I came to Townsville to study marine biology at JCU. While I'm not studying or working you'll find me chasing fish and mud crabs up the creeks and when the weather allows, getting out on boats to have a spear. My favourite fish to target back home is Bluefin Tuna because of the hunt to find the fish and then also their awesome eating qualities.