Inside Our Store
Tackle World Townsville is one of the largest locally owned tackle stores in Australia with wall to wall fishing gear to cover all aspects of fishing with gear to suit those fishing on a budget right through to the latest and greatest in quality fishing gear. "Everyday is a good day for fishing".
Our lures and soft plastics range is massive covering an entire wall with tens of thousands of different products to choose from. We have the largest range of fishing clothing in North Queensland with everything from sun protection to casual wear. Our spearfishing section is ever expanding with a huge selection of gear from top brands like Rob Allen, Rabiteck, Hammerhead, Mares and Cressi just to mention some.
Everyone in our store is passionate about fishing and always excited to pass on any information we can to help you enjoy your fishing experience that little bit more, local knowledge can do wonders to your chances of landing that fish of a life time.
The areas accessible from Townsville include the barramundi rich waters of the Hinchinbrook Channel to the exceptional light tackle grounds of Cape Bowling Green with some of the best juvenile black marlin and sailfish fishing in Australia. The freshwater reaches of the Ross River runs through town and is full of metre plus barramundi and some real lure crunching mangrove jacks.
During the summer months if there is good rain fall then the numerous weirs spread throughout the River are particularly good with Aplins weir really turning it on for barramundi and mangrove jacks as this is the last weir in the chain where the fresh meets the salt.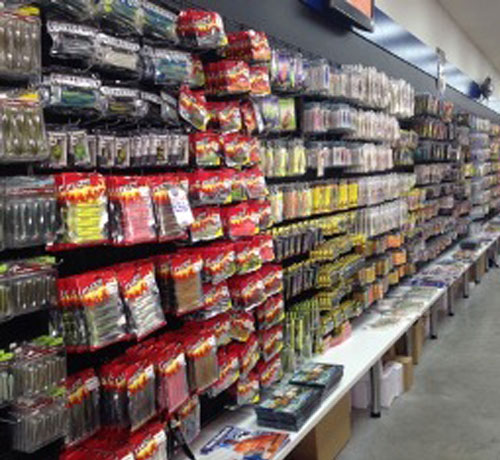 Most of the creeks and rivers around Townsville are full of mud crabs and prawns not to mention the fish with barramundi, mangrove jacks, javelin fish and flathead just some of the many species available in these systems. Cleveland and Halifax Bay are also very productive with the winter months in particular turning on some great pelagic fishing, with school mackerel, spotted mackerel and Spanish mackerel being landed at this time. Then there is Salamander Reef, Magnetic Island and the Palm Island group just offshore and this is where the monster Spanish mackerel and giant trevally really turn it on with 30kg fish not uncommon.
Last but not least the Great Barrier Reef is only about 40km off Townsville with some of the most spectacular fishing on the planet, with coral trout, red emperor, large mouth nannygai, red throat emperor and numerous other species on offer, it is simply every angler or spear fishers paradise. With all this fishing action on offer there is also a million and one ways to fish these areas and that is were we come in, we love it and you will to.
---
Meet the Tackle World Townsville Team
Danny
I own and manage the Tackle World Townsville store and fishing is my life, if I am not in the store or updating this web site I am fishing with mates or my kids. My real passion is chasing giant trevally on poppers with my ultimate goal to land and photograph a 100 Ib'er. I also love jigging soft plastics and metals around wrecks and reefs and living in Townsville it is hard not to get a thrill out of casting lures for the mighty Barramundi.
Every day is a good day for fishing!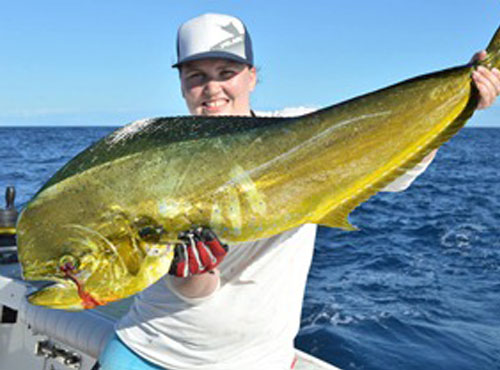 Renee
Hi Guys, Renee here, working at Tackle World is a blast, whether its giving advise or learning something new I'm loving it. Fishing and being out on the water is second nature to me, if the weather is good you'll no doubt find me the farthest I can get from land, bottom bouncing for big reds or trolling skip baits for the chance to tussle with a black marlin. It doesn't stop there, if the wind is up I'm definitely not sitting at home, I'll be in the local creeks or up the Hinchinbrook Channel casting lures chasing the mighty Barramundi. There is nothing like the feel of a loaded rod, tight line and the sound of your drag.
Get out there!!!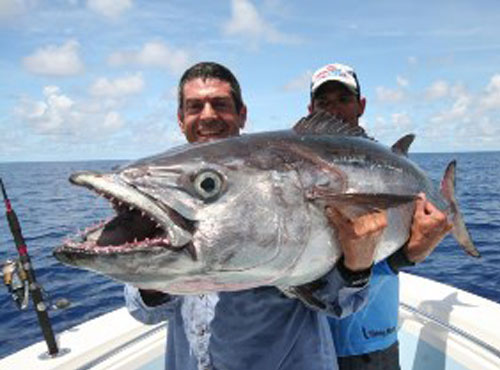 Rob
For those who don't know me I made my living as a professional lure and fly fishing guide for 14 years before working here at Tackle World Townsville. I operated primarily out of the Hinchinbrook channel but also ventured to Cape York before swapping sandflies and sunscreen for air conditioned comfort and gentlemen's hours. In that time I had the pleasure of guiding local, interstate and international anglers onto some of the country's most sought after sportsfish from barra to the elusive permit. Since then I have been focusing on this regions fantastic bluewater offerings from wreck bashing to jigging the self, throwing poppers at GTs to marlin fishing. I may not get out on the water as much as I used to but still love sharing what I have learnt over the years with customers here at Tackle World Townsville.
Cheers Rob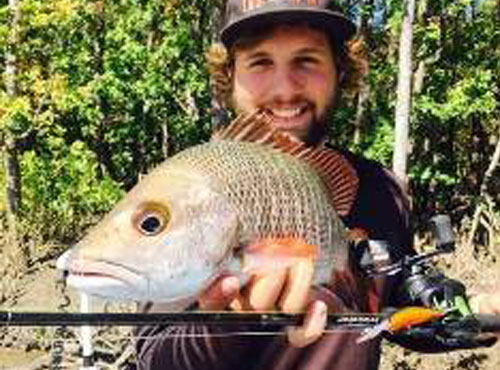 Luke
Luke is the name, fishing has been in my blood since I was born, so it makes it hard to call working at Tackle World work, but hey, someone has to do it. It doesn't matter what type of fishing it is I love it all, from casting snags for barras and jacks, to casting poppers around the reefs and dropping jigs down on the many wrecks that are scattered throughout our inshore shoals. Also having extensive knowledge of everything boating makes my love for being on the water greater than being on land. Don't hesitate to ask about anything to do with boating and outboards, we have a range of essential accessories in store that can cater to your needs, with the knowledge to suit.
Cheers Luke